The Newman Club is WPI's Catholic community. We have Mass on campus each Sunday, as well as weekday Masses, Adoration, and the rosary. On Fridays and Saturdays we host social events and outings.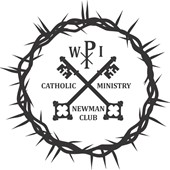 All are welcome! For more information or to join our Slack, please email newmanclub@wpi.edu or check out our Catholic Campus Ministry website.
Our office and chapel are located at the CRC, 19 Schussler Road.